WE ARE NOW TAKING BOOKINGS FOR 3rd DECEMBER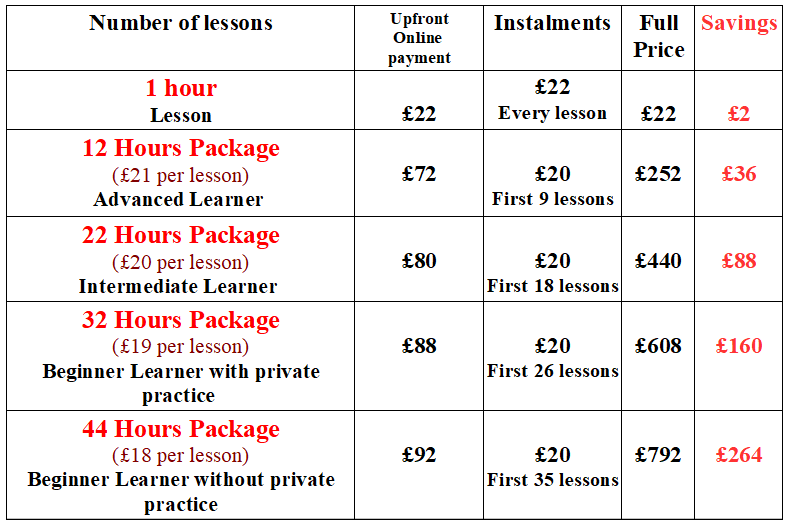 How to book a lesson
Use our online payment to pay the upfront amount to secure your place, we will contact you to provide a suitable appointment.
You can pay off the remainder balance in full or in instalment to your driving instructor during your lesson using cash/card or bank transfer.
Please make sure before making any payment that we cover your area, you are 17 years of age or over and have a valid UK provisional driving licence.
You must take all the package lessons to benefit from discounted prices and should for any reason you are unable to take the full package you will be charged £24 for all the lessons already taken. You must take a minimum of 1 lesson per week or you can take as many as you want however should you decide to increase the number of lessons midway in your training then you must notify your driving instructor a few weeks in advance.
PLEASE NOTE: We only provide lessons in manual vehicles. You can take 1 hour lesson or several lessons in a week with any packages. We are currently recruiting from the following post codes: BD1, BD2, BD3, BD4, BD5, BD6, BD7, BD8, BD9, BD10 and BD18. If you do not live within the post codes we are currently recruiting from and would like to find out if we can provide packages for your post code then text/ email your address to us. Thank you.
How many lessons will I need?
12 hours package is ideal for people needing to brush up on their manoeuvres, refreshing on dual carriageways, learning a few test routes and getting used to driving a different car. Which means you have driven before and done your junctions, pedestrian crossing and roundabouts.
22 hours package is ideal for people who have a good understanding of the operation side of the car and can deal with average junctions, keeping the car running and being able to hold the biting point (clutch control). Maybe you have previously taken 10-15 lessons and are wanting to change instructors or start again after a break.
32 hours package is good for people with no or very little driving experience and is ideal if you are planning to practice with family members or friends.
44 hours package is ideal for people with no driving experience and people who do not prefer to take private practice.
The Driver and vehicle standard agency (DVSA) are the organization whom will conduct your practical driving test when you are ready and go for your test.
A study they carried out in 2013 concluded that an individual needs approximately 45 hours professional training and 22 hours private, for example driving with parents/family members.
Obviously this will differ with individuals and age will play a factor however, an average person reaches test standard after 35 - 45 hourly lessons.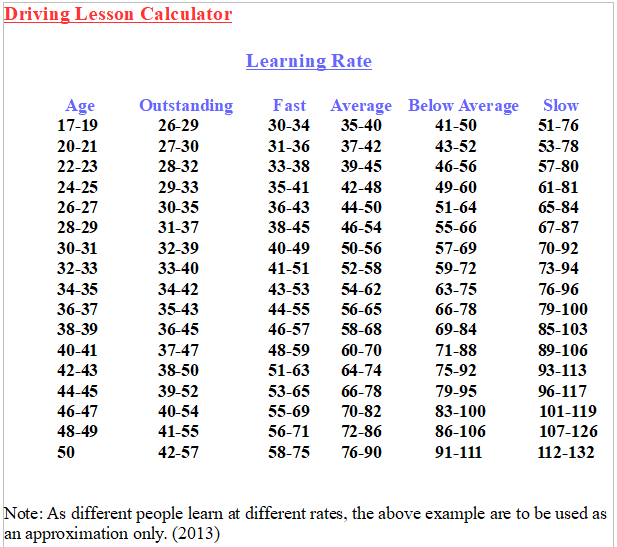 What will I get for my money?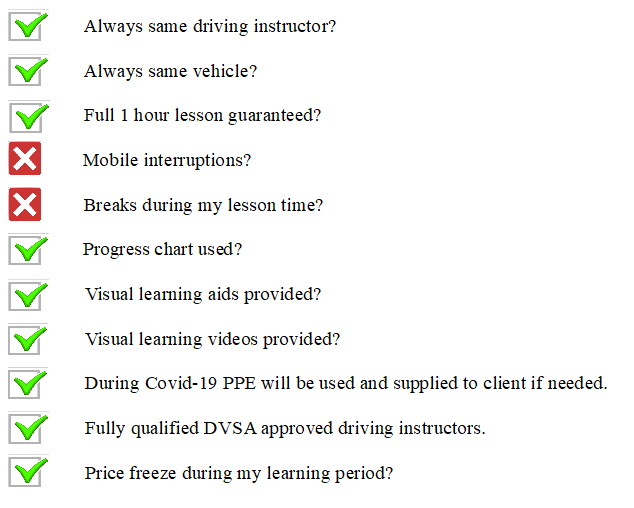 * Terms and conditions can be found on the footer of website.