Use this paying link if you are buying driving lessons to gift someone. eGIFT CARD
Please read conditions below before buying. Thank you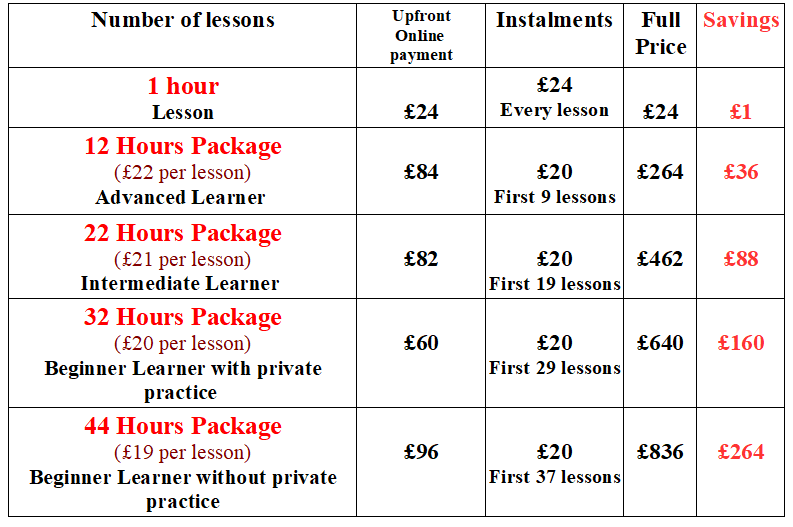 How to book a lesson
Pay the amount you want to gift someone and fill in their details when you are promted, this will allow the person recieving the gift to choose which package they want and they will have 6 months to decide.
Please make sure before making any payment that we cover their area, they are 17 years of age or over and have a valid UK provisional driving licence in hand.
PLEASE NOTE: We only provide lessons in manual vehicles. They can take 1 hour lesson or several lessons in a week with any packages. We are currently recruiting from the following post codes: BD1, BD2, BD3, BD4, BD5, BD6, BD7, BD8, BD9, BD10 and BD18.
How many lessons will they require?
12 hours package is ideal for people needing to brush up on their manoeuvres, refreshing on dual carriageways, learning a few test routes and getting used to driving a different car. Which means you have driven before and done your junctions, pedestrian crossing and roundabouts.
22 hours package is ideal for people who have a good understanding of the operation side of the car and can deal with average junctions, keeping the car running and being able to hold the biting point (clutch control). Maybe you have previously taken 10-15 lessons and are wanting to change instructors or start again after a break.
32 hours package is good for people with no or very little driving experience and is ideal if you are planning to practice with family members or friends.
44 hours package is ideal for people with no driving experience and people who do not prefer to take private practice.
The Driver and vehicle standard agency (DVSA) are the organization whom will conduct your practical driving test when you are ready and go for your test.
A study they carried out in 2013 concluded that an individual needs approximately 45 hours professional training and 22 hours private, for example driving with parents/family members.
Obviously this will differ with individuals and age will play a factor however, an average person reaches test standard after 35 - 45 hourly lessons.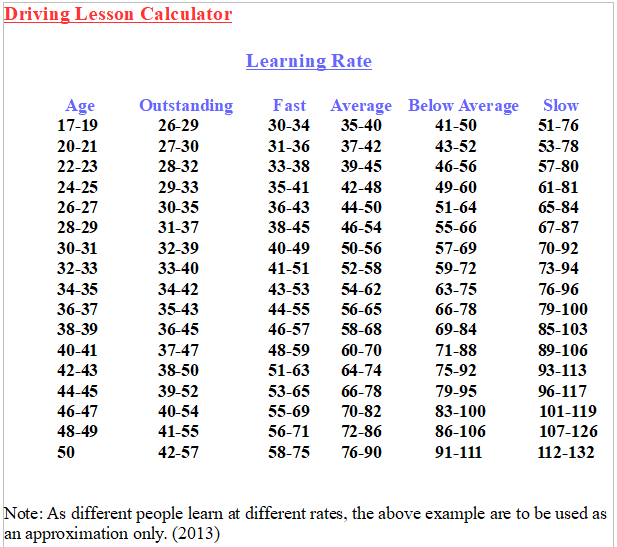 What will I get for my money?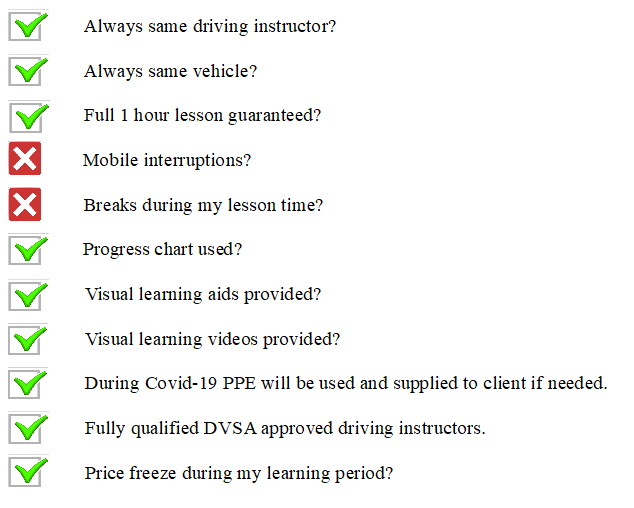 eGift card conditions.
Normal conditions that apply to someone buying a product for themselves will apply.
eGift card can be used for individual lessons or part fund/ full fund any package deals that are available on our website.
eGift cards must be redeemed within 6 months of purchase and does not hold cash value.
In rare exceptional circumstances may we refund an egift card purchase, we will deduct 3% card surcharge of total amount paid and £35 admin fees. This will require the person whom have recieved the egift card to initiate the refund request and the person who has paid for the egift card to agree in recieving the remaining money as full refund after we have deducted any fees/ charges.
eGift card can be redeemed for any ongoing offers/ promotions however once redeemed the customer must start taking driving lessons within 30 days.
If we enter any local or national lockdown due to Covid-19 we will extend these deadlines by the same amount of days we were under lockdown. Should you be asked to self isolate after redeeming your gift card we will extend the deadline by the same amount of days you were asked to self isolate.
Please check post codes we cover before buying anyone an eGift card, only buy an eGift card for a person living in the post codes we cover.
It is your responsibity to check if we cover your area before buying.
Maximum of 1 egift card can be bought by a household also one person/ organisation can not buy more than 1 egift card.
Should you for any reason not be able to enter one of our offers/ promotions and find yourself having to take individual lessons we will not charge you more than £24 per lesson.
You will get a code via email, it is your responsibility to keep this code safe & secure.
Where possible use the full name of the person you are buying the egift for. (This should be as it appears on their provisional driving licence)
eGift cards can not be transfered to another person nor can it be sold on.
We only sale egift card on our website which is www.sux-s.com and use sumup for processing our online payment.


* Terms and conditions can be found on the footer of website.